Passing down nearly 200-year-old buildings.
Narai-juku still retains strong remnants of that time as the longest extant post town in Japan on the Nakasendo route, with a history of 400 years.
Located right in the middle of the 69 Stations of the Nakasendo, it was known as Narai Sengen (meaning "1000 houses") and was a post town that flourished from the many travelers that passed through there.
Toshiyoshi-ya was built from a part of the former building of Suginomori Shuzo, a brewery founded in 1973 and known for being one of the Kiso region's five great sake brands.
Uehara-ya was originally a lodging place for Bentwood (or "Magemono") craftsmen, the main industry in Narai-juku during the Edo era; the building later prospered as the Hoi Hoi guest house before becoming Uehara-ya.
All 12 guest rooms are unique and diverse, drawing on the structure of two historic buildings with two different uses and floor plans. By immersing yourself in these historical buildings with unique structures, you can experience the history it has undergone through the ages and come in contact with countless stories.
These rooms offer a special accommodation experience unique to traditional private dwellings that have been instrumental in the local culture, making them vastly different from run-of-the-mill hotel rooms.
*Note about accommodations for children:
- Please note that we do not permit preschool-age children to stay overnight at the facility, due to steep staircases and gaps that could be dangerous for small children.
Moreover, sounds are more likely to resonate due to the internal design of the structure.
- As a rule, children of elementary school age and older can only stay in rooms 106, 107, 108, 109, 110, and 112.
- Please note that dinner at the restaurant lasts 2 to 3 hours, so we ask that children be instructed to remain calm and quiet during that time.
If you have any other questions or concerns, please contact us prior to booking.
Contact: 0264-34-3001(BYAKU Narai)
Toshiyoshi-ya
Main building
Toshiyoshi-ya was formerly the Suginomori Shuzo brewery, founded in 1793,
boasting a history of over 200 years.
The brewery was once known as one of the five great sake brands in the Kiso region; it was an emblem of the town as a historic brewery familiar to many locals.
The guest rooms at the inn draw out the original structure and design of the building. They all have different floor plans and are unique spaces, each one being special.
In addition, there are facilities open to the general public, such as a restaurant built in a former sake brewery building, a bar, and a large public bath.
101
百一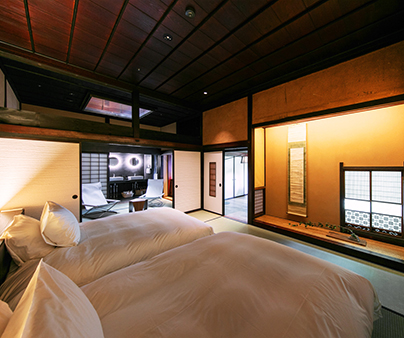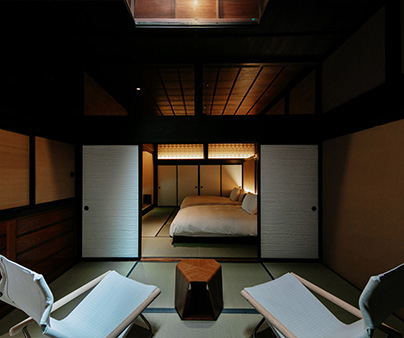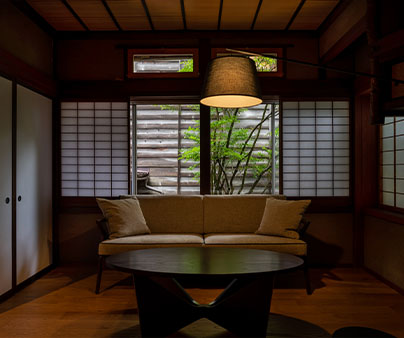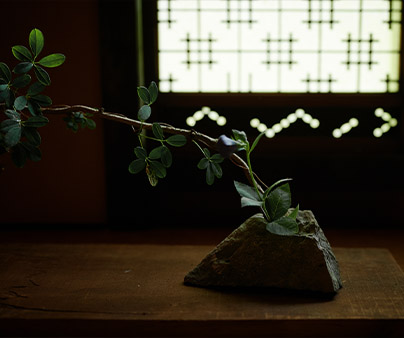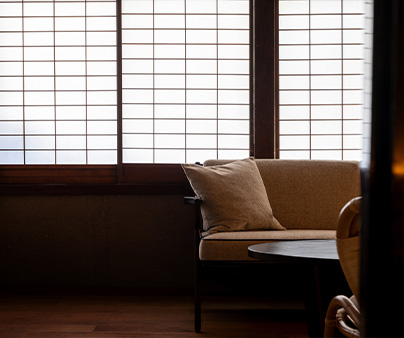 Connecting different spaces through traditional wooden sliding doors
This room is made of three spaces with different aesthetics: a front room with a skylight, a bedroom with a traditional alcove, and a bright living room where sunlight shines in via two windows. This room uses the existing architectural details like the ceiling, walls, and alcove to the fullest.
Spend a relaxing time while looking up at the skylight unique to an old private home, lie down on the sofa while having a drink, or feel the outside breeze in the guest room's open-air bath.
49m²2 double beds, 2 futonsopen-air bath
102
百二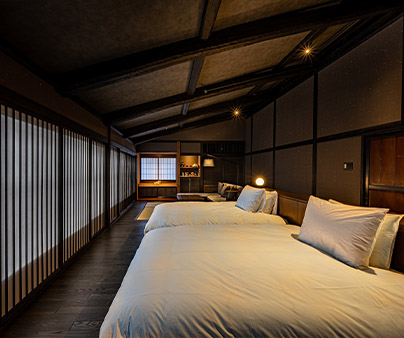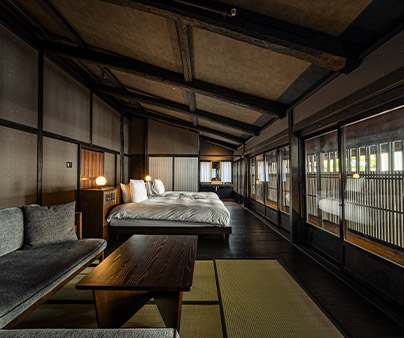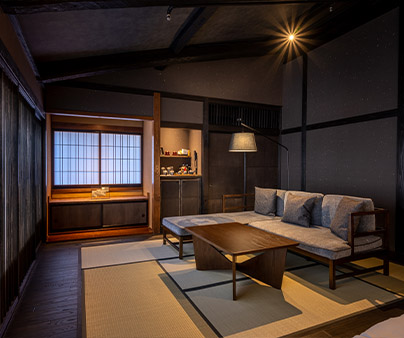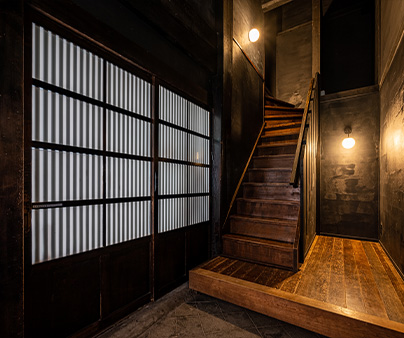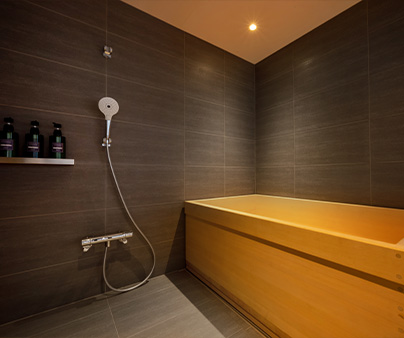 Glimpsing the street through sumptuous lattice windows
The window gratings and paper sliding doors, emblematic of Narai-juku, give this space a fantastic atmosphere.
The sense of openness with no supporting pillars immerses you in an even more luxurious feeling.
Luxuriate in comfort while gazing at the main street between the latticework; on quiet nights, listen closely and you may hear the sound of water in the street.
59m²2 double beds
103
百三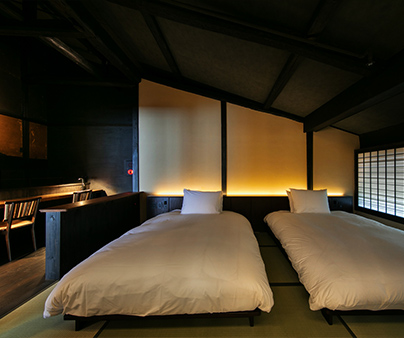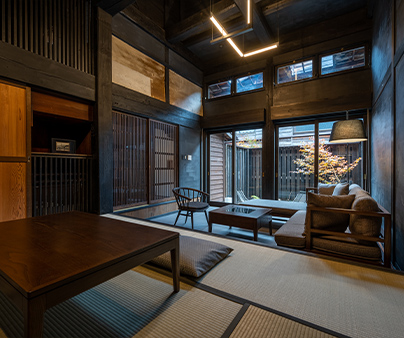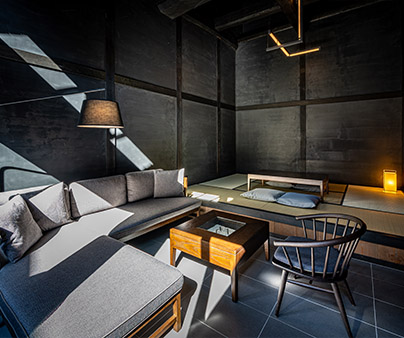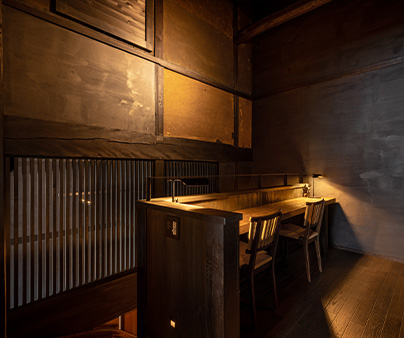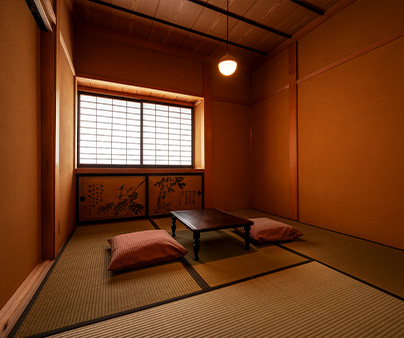 A dynamic space revealing its roof frame
The robust beams patinated by smoke and the black clay walls suggest that this space was historically used as a kitchen.
This room gives you a dramatic sense of scale, with an atrium space unique to old Japanese-style houses.
Gather here and share exciting times with your family, friends, and loved ones.
You can find a ground-level terrace next to the atrium, and a bedroom as well as a study space with a view of the mountains on the second floor.
It is the largest room in the Toshiyoshi-ya building.
68m²2 double beds, 3 futons
104
百四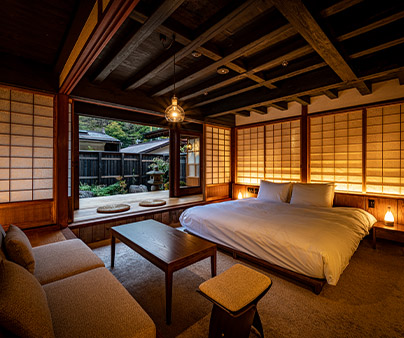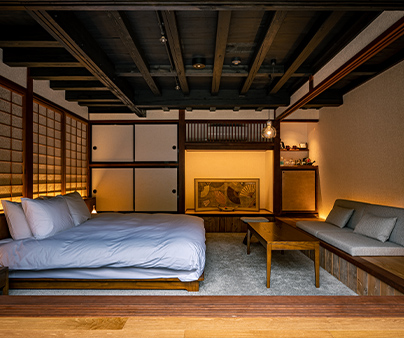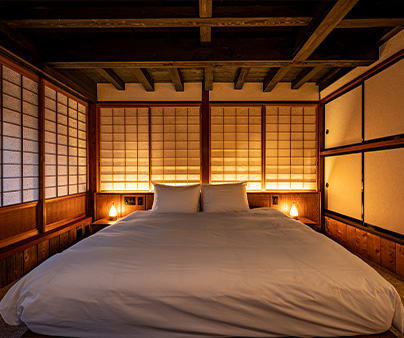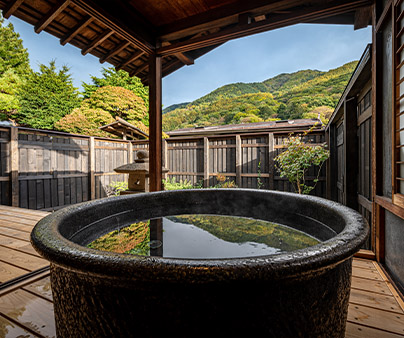 Blending the boundaries between inside and outside
Having a veranda subtly blending the interior and exterior is one of Japan's signature architectural touches.
Gaze out at the garden and the mountains of the Kiso region on the veranda terrace leading to the courtyard, or unwind in comfort in the sunken living room inside.
Enjoy a one-of-a-kind bathing experience in the guest room's semi-open-air bath, which was originally a tea room.
37m²1 king bedsemi-open-air bath
105
百五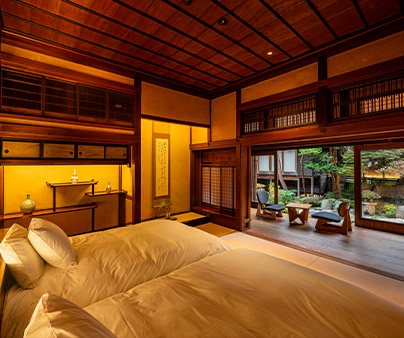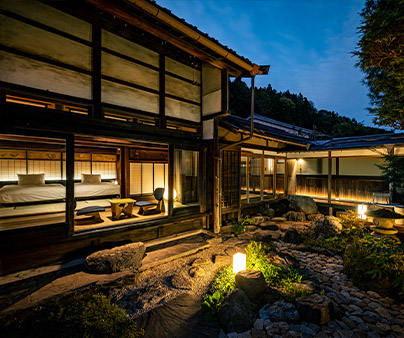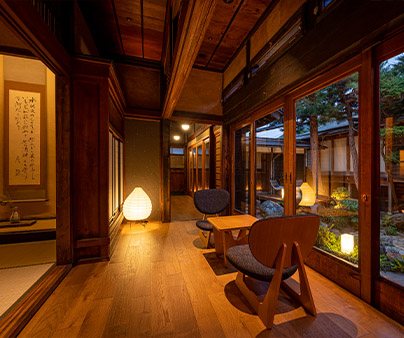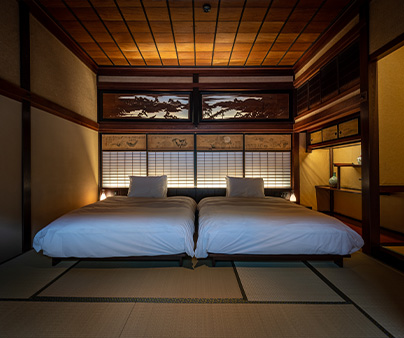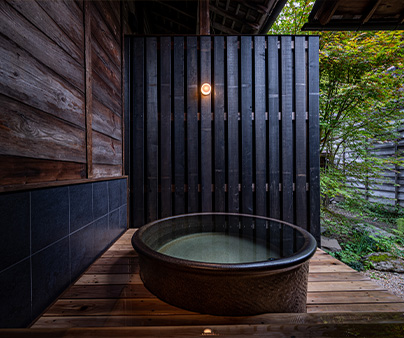 Admiring the luxury of a traditional Japanese style tatami room
This authentic Japanese-style room retains its original sliding doors, staggered shelves, alcove, decorative transom, drawing room, and board and batten ceiling.
This luxurious room also has a spacious courtyard that you can enjoy all to yourself; please enjoy the passing of time gazing at the largest garden in the inn from the veranda.
The subdued atmosphere open-air bath is also a feature unique to this room.
45m²2 double bedsopen-air bath
106
百六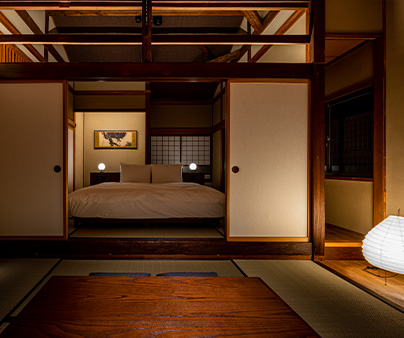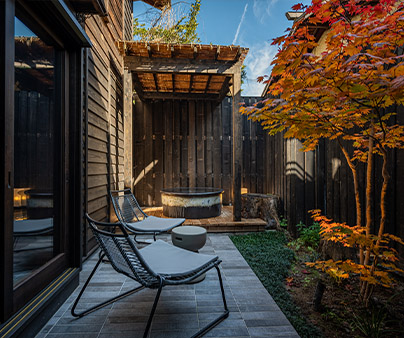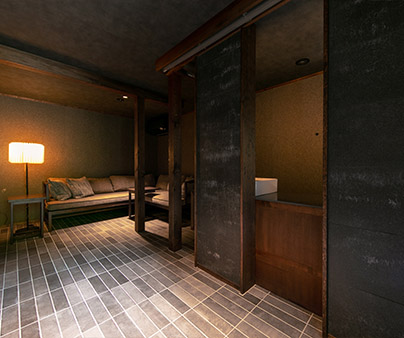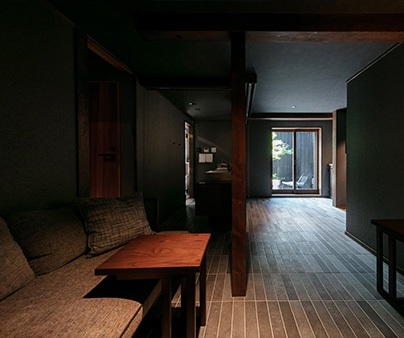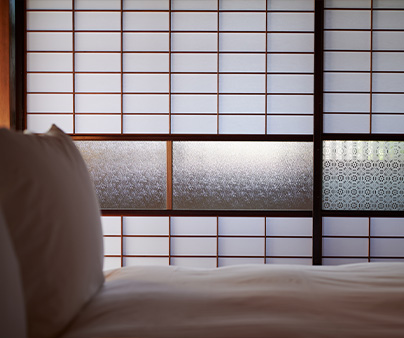 Experiencing glimpses of history in a detached room
The traditional tatami room on the second floor was built in the Taisho period (1912-1926). Originally installed on the first floor, it was moved up there when the first-floor area was expanded in the Showa period (1926-1989). This history gives the respective parts of this room a different look and atmosphere.
There is something playful about the first floor, which feels like you are occupying a space "under the floor."
In this room filled with history, you can enjoy a sophisticated time there or unwind in the spacious open-air bath.
As this room is remote, you can enjoy a lively time without disturbing others.
52m²1 king bed, 2 futonsopen-air bathelementary school-age children and up permitted
107
百七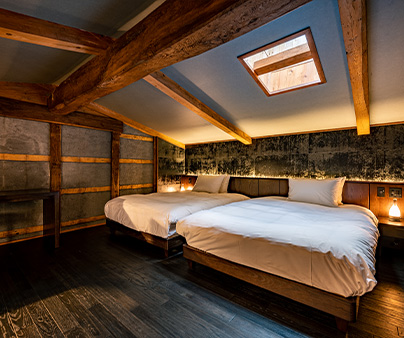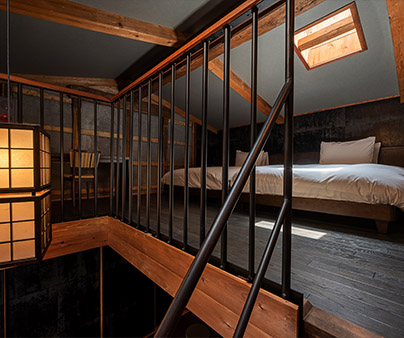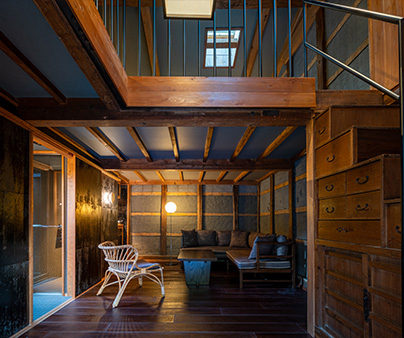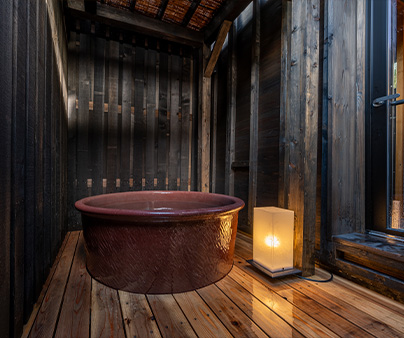 Feeling the black lacquer work in a hidden storehouse
Since the space was used as a traditional earthen storehouse to keep lacquerware, the interior has been done up in a black lacquer finish to inherit that tradition and give it a touch of the extraordinary.
Have a one-of-a-kind experience by staying in a former household storehouse with thick clay walls and massive doors.
The open-air bath, where you can feel the historical storehouse walls of this maisonette-style room with an atrium, is another charming point.
44m²2 double bedsopen-air bathelementary school-age children and up permitted
108
百八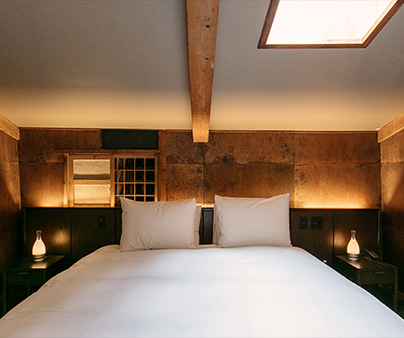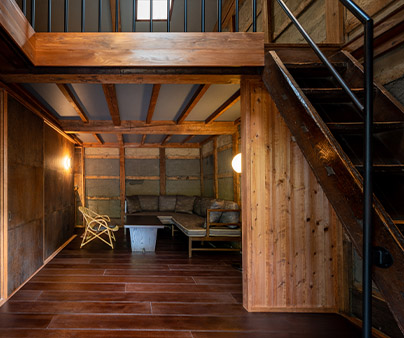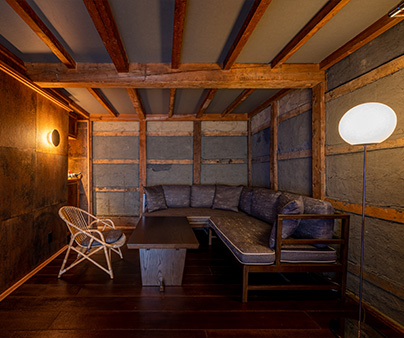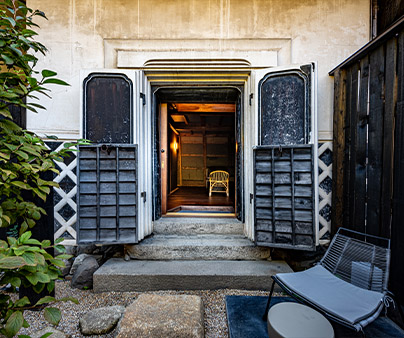 Feeling the raw lacquer work in a hidden storehouse
Similar to room 107, this is a maisonette-style room with an atrium where you can enjoy the one-of-a-kind experience of staying in a former household storehouse.
Inheriting the history of a storehouse where many lacquerware implements were kept, the space features a traditional reddish-brown lacquer tone.
The open-air bath is surrounded by the storehouse's traditional "namako" style walls, giving the space its unique charm.
You can admire the greenery of the mountains during the day, and the contrast of mud walls against the sky at night.
This room lets you discover a different atmosphere depending on the time of day.
40m²1 king bedopen-air bathelementary school-age children and up permitted
The history of Uehara-ya dates back to when it was a residence for Bentwood craftsmen, which was the main industry in Narai-juku during the Edo period (1603-1868), and later flourished as the Hoi Hoi guest house entertaining people who visited the town.
This type of Japanese rowhouse has played a crucial role in the lives of common folk since ancient times. This space combines old and new design sensibilities with modern materials, using the building structure and elements that have existed here for more than 200 years.
109
百九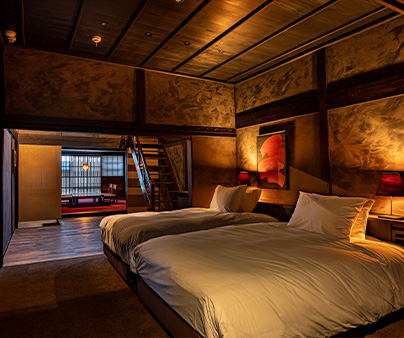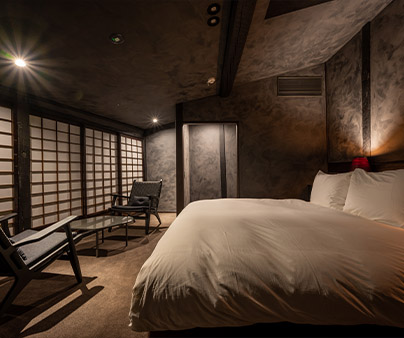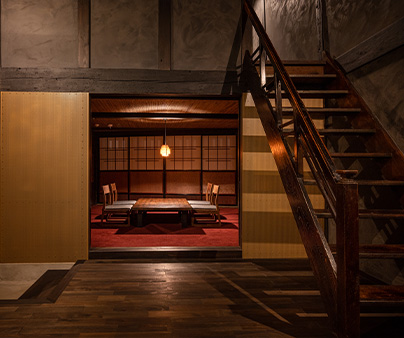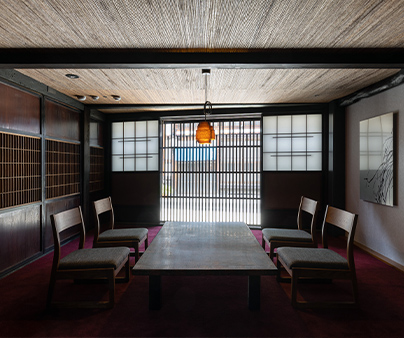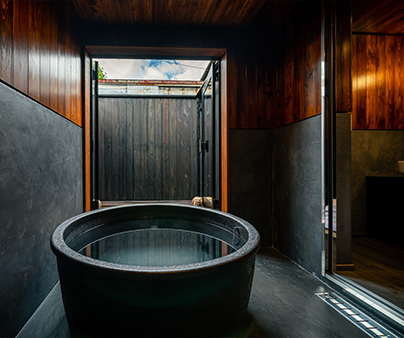 A contrasting space revealing its framework
The only room in the Uehara-ya building that faces the main street. This renovated private dwelling combines modern materials, such as metal, with traditional pillars and beams that are nearly 200 years old. The atrium acts as a central space, illuminating the room with soft light.
Thanks to the 2 bedrooms (on the first and second floors), you can use them for different purposes, such as a private space or a space to gather with others.
72m²1 king bed, 2 semi-double bedssemi-open-air bathelementary school-age children and up permitted
110
百十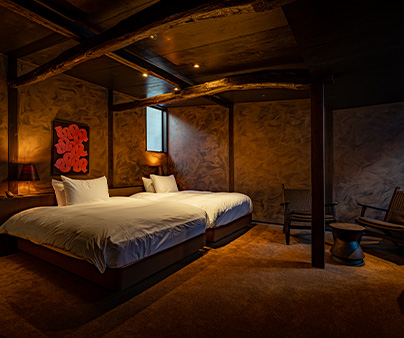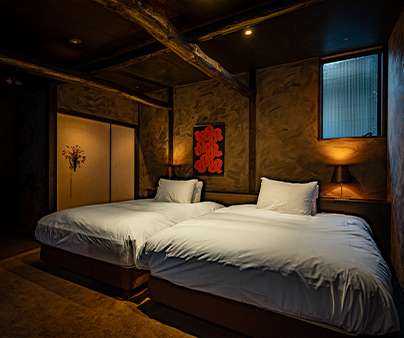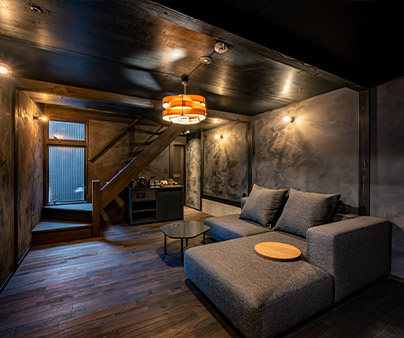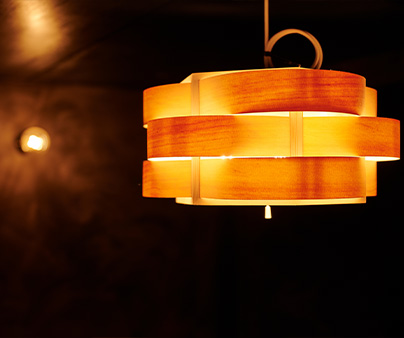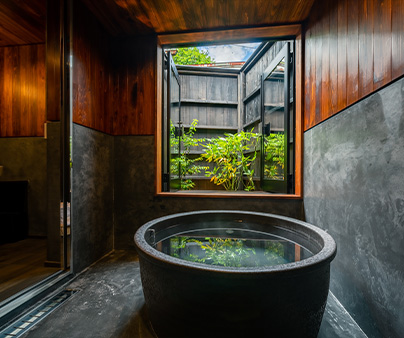 Sensing the rhythm given by wooden beams to a space blending old and new
One feature of Uehara-ya is that the historical style of the rooms becomes more modern as you move from the front to the back of the building.
This room is a remarkably designed space that uses traditional pillars and beams while updating the space into something new.
This maisonette-style room consists of a living room on the first floor and a bedroom on the second floor.
51m²2 double bedssemi-open-air bathelementary school-age children and up permitted
111
百十一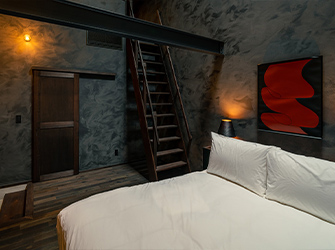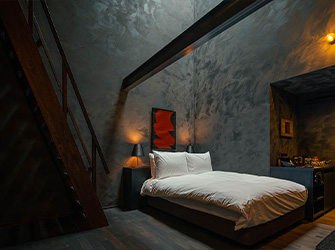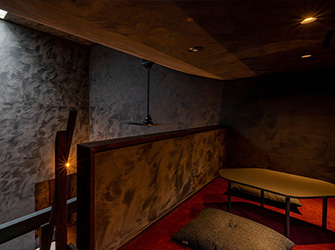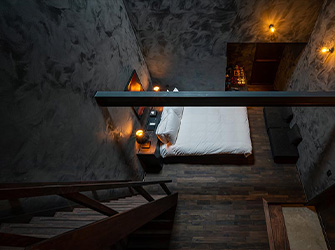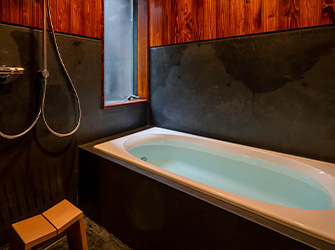 Experiencing a room with an extraordinary ceiling height
This is BYAKU Narai's smallest accommodation, akin to a cozy hideaway, featuring a compact one-room with a loft.
Though it is not the most spacious space, the impressively high ceiling is the only one of its kind in the inn.
With few openings, light entering through the skylight provides naturally-lit and shaded areas even during the daytime, creating an even more extraordinary atmosphere. The loft on top of the staircase is a little nook where you can read or listen to your favorite music - or you could use it as your own secret fort!
The room is furnished with a double bed and can accommodate up to two people.
Please note that the stairs up to the loft are very steep; we do not recommend this room for those with mobility issues.
It is our most economical room as it is prone to noise from the corridor due to its structure.
We recommend it for those who travel on their own or those who want to focus on enjoying meals at kura or the bar, or walking around the city while keeping their lodging budget to a minimum.
23m²1 double bed
112
百十二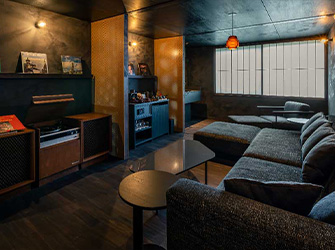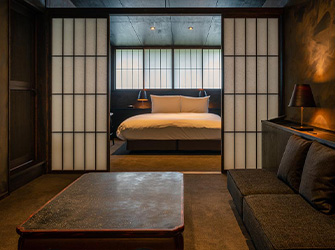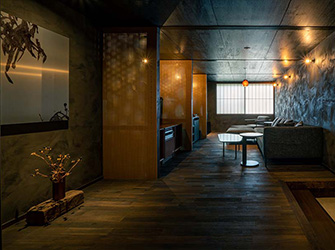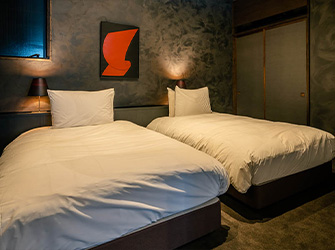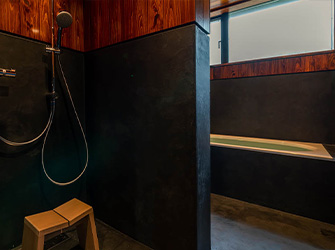 Relaxing in a rich space full of diversity
The first floor features a large window letting light in, making this a nice living space to listen to music, have a drink, or spend fun times with family and friends. Upon entering the room, you will be delighted to see a record player and a variety of colorful records. These were something the original owner of Uehara-ya prized, so we have carried on that tradition.
On the second floor, you will find two separate bedrooms with a bathroom area.
Open the windows and be soothed by the sound of water and the mountain vistas; at night, you can see the illuminated Kiso Ohashi Bridge.
73m²1 king bed, 2 semi-double bedselementary school-age children and up permitted
Each room comes with the following amenities and equipment.
Room amenities

Toothbrushes, combs, razors, cotton swabs, slippers, toner, lotion, loungewear

Room equipment

WiFi, refrigerator, air conditioner, air purifier, humidifier, hair dryer, electric kettle, toilet, washlet

Bathroom

Standalone bathroom, shower, hand towels, bath towels, shampoo, conditioner, body soap